Maximize Your Robot Equipment Performance and Return On Investment With Training From Autoline
Our mission is to provide training services for our customers so they a technically trained and have the knowledge to perform their job as a robot operator.
Autoline offers customers a robot training service which covers all types of applications and different operator levels to help you use, understand and maintain your products. Practical hands-on training at Autoline or on-site training at your site can be scheduled to teach robot operators of all experience levels increase knowledge, improve skills and reinforce safety practices.
Standard, modified and customized training courses are available by our trained robot technicians and programmers to suit your robot/s and application. Autoline robot technicians are active service and application engineers with an extensive knowledge of our products including plentiful of experience working with Yaskawa, OTC Daihen and Doosan equipment.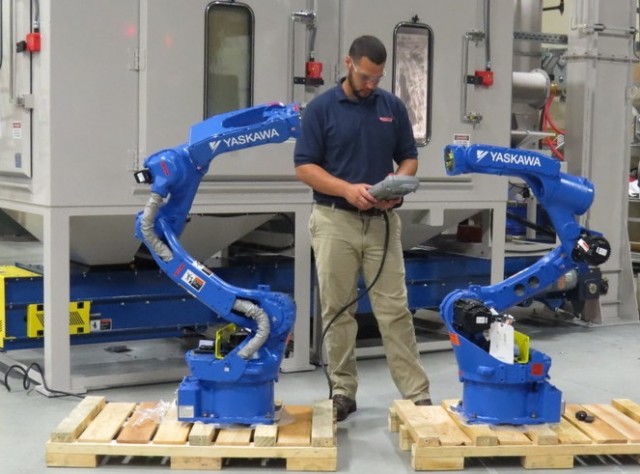 Advantages of Training Include:
Learn through hands on instruction on your own cell to give you security and confidence in your facility.

Help impart operators with knowledge to enable proper action and meet your occupational health and safety obligations through third party training and certification.

Instructors are active service technicians and have unparalleled industry knowledge of robotic equipment.

Support you at an early stage so that problems are identified early.

Assist you with your processes and thus help to optimize and secure the productivity of your facility with increased productivity.

Follow up or additional training is available.
For information such as scheduling training sessions and pricing please contact us to discuss.